Testimonials and Feedback
---
"I've been using Dan at DC Garage Door for several years. He's done work on two garages for me and I have refereed him to several friends and all were very happy with him. He's my go to guy for anything garage door related and he always leaves me amazed at how quiet and smooth the door can operate. Great and honest guy with fair pricing."
5 Star Yelp Review (April 2014)
---
"I needed to get the spring replaced on my garage door and I called Dan. He showed up on time. He did the repair very professionally and at a reasonable price. It doesn't get any better! Thanks Dan!"
Steve from Lisle, IL.
5 Star Yelp review
---
"I have dealt with DC Garage door on a few different occasions. My first experience was with my mothers garage door in which they replaced the door and opener along with all new tracks. She (and myself) have nothing but great words on their work with her door. 5 years later and the door works flawlessly.
My second experience was just a week ago when my shops 12 foot door broke a spring causing an employees car to be locked inside the shop. I called DC and within an hour he came out and was able to temporarily fix the broken spring so we could open the door. After one day later, DC came back out to replace the springs.
Again...I cant be happier with the service. I have since referred them to a few others which plan on getting work done. This is my first time ever posting on Yelp and normally would not take the time to write on something like this...but I, my mother, and boss were so pleased with them that I thought it was only right to give them praise."
Justin from Glendale Heights, IL
5 Star Yelp Review
---
---
"I have used this guy a couple of times so far and have had nothing but good luck so far with him. I even referred him to my father-in-law who also has zero complaints about the door he installed for him, He is fast and professional,and really seems to know what he is doing.
I wanted a new door installed last year,but he pointed out that all it needed was a minor problem fixed for a fraction of what a door would have cost me. Not many people are that honest these days. If you need help with your garage door this is the guy to take care of it."
Jim from Burbank
5 Star Yelp Review
---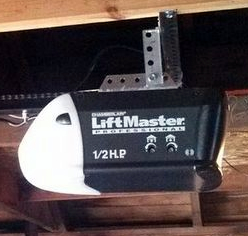 Fast, Reliable Service
"I called Dan this morning. I have a brand new Liftmaster garage door opener as of this afternoon.  Great Price and service. Thanks!"
-Chris from Winfield, IL-
---
DC does the job right the first time

"Thanks for the wonderful keypad and fixing our loud garage!"
-Traci-
---
If you're needing Garage Door Serivices, take heed to what I have said. Go immediately to DC, and your door won't fall on your head."
-John from Chicago, IL-
---
Thanks for the wonderful door that was installed this winter it has worked perfectly!
-Vinnie from Chicago, IL-
---