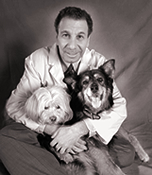 The Everhart Mission...
Since 1956, we have worked hard to be the "Best Veterinarian in Baltimore".  Our mission is to provide the highest quality, compassionate veterinary care to our clients and their companion animals.

Visit us on Facebook and click the "Like" button to enjoy health tips, see adoptable pets, read stories from our clients, and share photos of your pets.
Everhart Veterinary Hospital has been voted the "Best in Baltimore" by numerous Publications over the past several years. We provide full surgical, medical, dental and radiological services to domestic and exotic pets, including reptiles and birds. We also offer acupuncture & integrative medicine.