Childhood cancers are the #1 disease killer of U.S. children.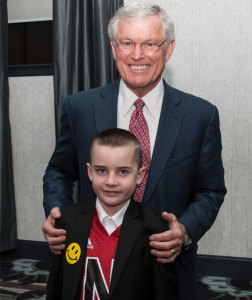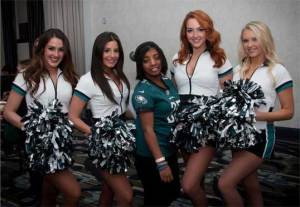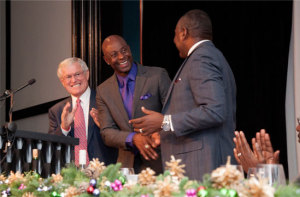 Bert Bell Dinner
THE 53rd ANNUAL BERT BELL MEMORIAL AWARD DINNER
Tuesday, December 16, 2014
The 2014 Bert Bell Memorial Award Dinner, sponsored by Pocono Raceway and the Mattioli Foundation, Dougherty Electric, Flyers Charities, PMC Property Group and Fastrack Construction, was a stunning success attracting more than 500 people and raising over $500,000. This is the most money ever raised in the 53 year history of the Bert Bell Memorial Award Dinner. Four-time Super Bowl Champion, Matt Millen, received the Bert Bell Memorial Award for his contributions to the National Football League. Jim Murray, co-founder of the Ronald McDonald Houses, was given the Dick Vermeil Award for his commitment to family, team and community. The Michael's Way Hero was Caleb Walker, who suffered from a rare form of brain cancer, founded A Week Away to give cancer caregivers a week of peace in their chaotic world. Sadly, Caleb lost his battle with cancer on December 3, 2014. Current Philadelphia Eagles, Cody Parkey and Marcus Smith, as well as former Eagle Ike Reese were recognized for their service to the Philadelphia community.
Please join us in December for the 2015 Bert Bell Memorial Award Dinner at Vie. Details to be announced.
Sponsorships range from $150 to $25,000 and include VIP Reception with celebrities, a Super Bowl trip, autographed footballs and more. Tables for 10 start at $5,000, and individual tickets cost $500. View Gallery
Sponsorship Packages
$25,000 Title Sponsor
$15,000 Presenting Sponsor
$10,000 Contributing Sponsor
$5,000 Patron Sponsor
$2,500 Hall of Fame Sponsor
$1,500 Child Table Sponsor
$500 Player's Spot
$150 Sponsor a Child
List of 2014 Honorees
BBert Bell Memorial Award: Matt Millen
Dick Vermeil Award: Jim Murray
Michael's Way Hero: Caleb Walker
Eagles Hero Awards: Marcus Smith, Cody Parkey, Ike Reese
Scholarship Sponsors
Title Sponsors
Contributing Sponsors
Bert Bell Dinner
Donate Now
Dedicated to helping families of children with cancer