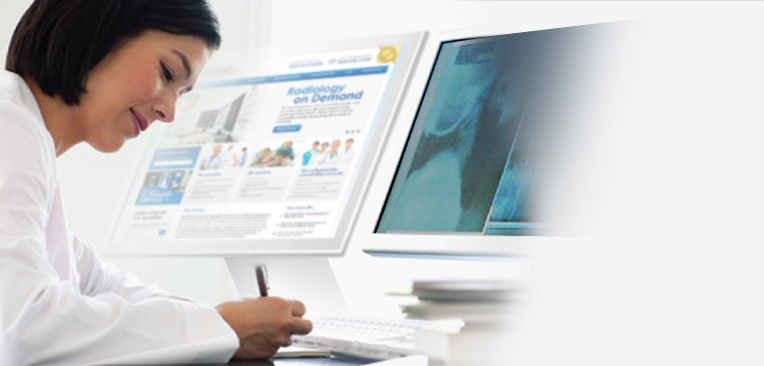 Teleradiology and On-Site Radiology Solution 24/7/365 in all 50 States!
Frequently Asked Questions
FAQ Clients
We are physician owned and operated. We are a private company without a large bureaucracy or non-medical interests. We have many satisfied clients who will speak on our behalf upon request.
Who are the radiologists reading our studies?
We represent a group of ABR certified radiologists trained at top US institutions. The majority of our radiologists are fellowship trained and many have additional CAQ certifications. We offer expertise in multiple subspecialties including neuroradiology, musculoskeletal, body, emergency radiology, pediatrics, PET/CT & oncologic imaging and cardiac CT angiography. We carry the necessary state licenses and medical malpractice insurance. We will undergo any necessary credentialing process at your hospital.
Do you have your own teleradiology platform?
Absolutely. We offer an advanced proprietary teleradiology solution which includes PACS/RIS/workflow/dictation/report distribution, all in one package.
How much do you charge to use your system? Are there start-up or switching costs?
It will cost you nothing to start using our system. There are no switching costs. There are no start-up costs. We are so confident that you will like our service we are willing to absorb any financial risk.
We have a teleradiology system already - do we have to use yours?
If you prefer that we use your system, we will accommodate your request.
Is there a long-term commitment to use your services?
Absolutely not. There are no long term commitments. We are confident that you will like our service. However if for whatever reason you are not satisified, you can cancel our service at any time. Our commitment is to offer high quality services and develop a long-term relationship.
How do you manage quality control?
We have stringent quality control requirements.
What is the turn-around time for STAT cases?
We report STAT studies within average of 15-20 minutes.
What technology do our clients need to have?
Your facility needs to have a high-speed Internet access (DSL, cable or T1 Line). DICOM-compliant modalities are preferred, but if you have non-DICOM equipment we can assist as well.
Do you have technical support?
Our technical support is available 24 hours a day, 7 days a week and 365 days a year. Customer service representatives will answer your questions or connect you directly with the radiologist handling your case.
Do you carry malpractice insurance?
We carry malpractice coverage valid in all U.S. states and the District of Columbia. USARAD.com maintains limits of $1 million/ coverage for all radiologists through a top-tier insurance providers.
How are you able to beat competitor's prices?
We run an extremely efficient operation without non-medical interests or middlemen. We pass on savings to you.
Can you provide a final report?
We can provide either final or preliminary reports depending on your needs.
How secure is your system?
Our technology is Health Insurance Portability and Accountability Act (HIPAA)-compliant. Our processes and technical infrastructure guarantee secured and confidential data management.
Can our referring physicians speak with the radiologists?
Absolutely. USARAD offers communication levels unparalleled in the industry. Our goal is to build your business. Our radiologists will respond to any physician inquiry within ten minutes of receipt of their call.
What is the typical timeframe for implementing USARAD's Radiology service?
We offer an advanced turn-key technological solution and we can start servicing you in as little as three days. Overall, however the timeframe will vary depending on individual circumstances, credentialing requirements etc.
How can we get more information?
As simple as dialing 888-321-RADS. Alternatively, you can fill out our
online form.
We are ready to start using your services, what's next?
Once the contract between USARAD and the client is signed, the USARAD service team member reviews the implementation process with client staff members. We first do a technical evaluation and install all necessary hardware and software free of charge. Our radiologists then work with the client to optimize protocols to maximize patient throughput. The client is trained on how to order interpretation services and how they will receive reports. The process will be tested before going live.
FAQ For Radiologists
How does USARAD.com differs from other teleradiology providers?
* USARAD.com is run and operated by radiologists. We are a private company without a large bureaucracy or nonmedical interests. We are radiologists ourselves and `we best understand other radiologist's needs`
* We utilize `Radiology-on-demand` paradigm. You work when you want to work.
* Complete freedom in selecting the U.S.-based location of your choice. We do not require you to move or work from a central office.
* We offer the most advanced technology available today. We provide all support staff necessary to poduce quality interpretations.
* Our radiologists earn prime industry compensation for both full time and part time positions.
* Subspecialty and general radiology are all under one roof.
What qualifications do I need to be considered?
* You must be U.S.-trained and board-certified.
* You must reside in the United States.
* You must be licensed in at least one state.
* For subspecialty division, you must have CAQ and/or be fellowship trained.
* For general division, you must be proficient with CT.
Do I need extensive computer skills?
Computer/ PACS familiarity is very helpful, however you do not need extensive skills.
Do I need to have my own malpractice coverage?
Having your own malpractice coverage will be very helpful, however if you don't have needed coverage, USARAD.com can cover you under the group plan
For more information about joining the USARAD team, please email your CV to info@usarad.com. You can fax it to 888-886-2486. We will contact you shortly.