Call one of our bbq event sales representatives now
1-800-562-5660
520 S. Lively Blvd, Elk Grove, IL 60007
Our retail meat market created these in the early 80's and they are still a 'hot' item. The marinated steak with traditional veggies or marinated pork tenderloin with peaches and pineapple are to die for. Includes Schaul's own homemade Signature Garlic bread plus your choice of potato or rice.
entree's: choose 2
Marinated steak kabobs
Seasoned steak kabobs
Chicken kabobs
Pork Tenderloin Kabobs
Lamb kabobs
Veggie kabobs
Schaul's Signature Garlic Bread (included)
choice of one
Rice pilaf w/raisins & almonds
Herb roasted potatoes
American Potato Salad
$13.95 per guest
Bring on that grand prize pig!! Turn your outdoor event into a bbq show, Firehouse Style. We come out, spit roast it, carve it, and serve it while you and your guests enjoy the food and the show ! Includes your choice of 2 sides from our masterful list, buns, and our own ancho chili bbq sauce. Minimum 50 guests; On site grilling and carving fee additional.
Whole spit roasted pig…$12.95 per guest
Whole spit roasted turkeys..$10.95 per guest
Whole spit roasted lamb..$23.95 per guest
Whole spit roasted beef round..$17.80 per guest
Sides: choose two from our masterful list
Steaks 'r' US
If you think we are serious about quality steaks, you are correct. We call on our experience from our butcher shops days to bring you the finest cuts of steaks in the highest grade possible. We will cook to order. This menu includes a special selection of sides, your choice of 2, and Schaul's own homemade signature garlic bread. Wanna see our steaks? Visit www.schauls.com.

Filet mignon: bone in or boneless
Strip steak: bone in or boneless
Rib Eye Steak: bone in or boneless
Porterhouse
Top Sirloin Steak
Lobster tails
Choose 2 sides:
Grilled Vegetables
Chili Roasted Potato spears -multiple flavors
Strawberry Salad
Baked Potatoes with butter and sour cream
Grilled corn on the cob with flavored butters
***Market price: call for current cost
***Grilled on location fee required
Fresh Burger Grill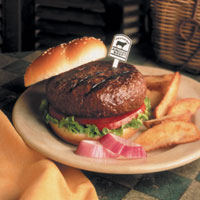 Schaul's own fresh never frozen 6 oz burgers are cooked to order. This is not your average burger. These bountiful beef patties are full of flavor and we offer your guests a wide and unique selection of fresh toppings, assorted cheeses and a variety of fresh baked buns.
choice of 2 sides
Schaul's 4 bean salad
Fresh cut Fruit Salad
Twice Baked potato salad
Panzanella Salad
Homemade chip combo
Apple slaw
$ 10.95 per person
plus on site grilling fee
Classic Grill

The name says it all, your choice of 2 popular grilled entree's, plus choice of 2 of our delectable side dishes.
Comes complete with fresh accoutrements and condiments.
Entree's: choose two
1/4 lb hamburgers/cheeseburgers
Chicago Style Hot Dog
Italian sausage
Bone in chicken
Sheboygan Bratwurst
Boneless chicken breast sandwich
Veggie burgers included
Sides: choose two from masterful list
$11.95 per person
Smokey Joe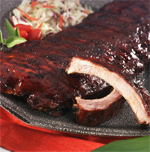 This is the real McCoy of classic traditional American barbecue as only our pitmasters and secret bbq rub can produce. Your choice of 2 entree's and 2 side dishes from our delectable list. p.s…. I highly recommend the southwest brisket.
entree's: choose 2
Schaul's Signature BBQ Chicken
Southwest Beef Brisket
Schaul's own turkey bbq style
BBQ Pulled Pork Sandwiches
Baby Back Ribs ……..+ $3.95 pp
St. Louis Ribs………..+ $2.95 pp
Sides: Choose two from our masterful list
$12.95 per guest
Ribs N Chicken
The Schaul family has been cooking bbq chicken for over 50 years; nobody's does it better. Our ribs are fall off the bone delicious and we will put our ancho-chili barbecue sauce up against anyone's. Includes your choice of 2 of our masterful sides and our own homemade signature garlic bread.
Baby back & chicken……..$16.95
St. Louie & Chicken ……..$14.95
Masterful Side Selection List:
Homemade Calico Beans
Corn on the cob
Old fashioned American Potato Salad
House made Pasta Salad
Fresh cut fruit salad
Firehouse BBQ Mild Cole Slaw
Chef Britt's Cold Bean Salad
Homemade Mac n Cheese
Assorted Bags of chips
Puerto Rican rice and beans
Loaded Mashed red skin potatoes
Our Executive Chef Brittany loves Korean bbq and you will taste that evidence in this menu. Your choice of 2 savory Asian entree's and 2 traditional Korean sides
entree's: choose 2
Korean grilled bbq short ribs
Sweet n Sour Korean Chicken
Asian BBQ Pork loin with Sweet Hoisin Sauce
sides: choose 2
Kimichi
Fried Rice
Wasabi Mashed Potatoes
Pickled Vegetables
$15.95 per person
Our neighbors to the south have been cooking over wood and flame as long as anyone. With their help we offer some true Mexican BBQ. Your choice of 2 entree's and 2 sides.
entree's: choose 2
Ancho chili marinated steak
Guadalajara chicken (boneless Breast)
Spicy Tequila Breast of chicken
Honey chipolte pork loin
Grilled guajillo chili Shrimp Skewers
sides: choose 2
Cuban Black Beans
Spanish Rice
Chipotle lime rice
Southwest corn
$14.90 per guest
Some say this is where barbecue (barbocoa) started. When our island bbq ends on your palate you won't care where it started. Imagine the smell and taste of bbq jerk chicken or sweet n sour pork, the warm pleasant feel of tropical breezes, add in some cool Polynesian sides and presto you're in the tropics.
entree's: choose 2
Grilled Island chicken breast with pineapple salsa
Grilled Jamaican Chicken Breast
Teriyaki Beef
Kaula Pork with Mango Sauce
Spicy coconut lime grilled Shrimp
Choose 2 sides
Maui rice
Grilled Pineapple w/sweet n sour veggies
Hawaiian Salad
Sesame Cabbage Salad
$13.95 per person
***Hawaiian Bread included
When it comes to food, the countries of the Mediterranean take a back seat to no one. You will be surprised and delighted how good their BBQ is. Your choice of 2 entree's and 2 sides.
entree's: choose 2
Grilled chicken w/lemon, garlic, oregano
Greek Beef Skewers
Greek Pork
Mediterranean Grilled Pork Loin
Lamb Kabobs with Mint Yogurt Sauce
Choice of 2 sides:
Warm Couscous and grilled zucchini salad
Potato onion bake
Mediterranean pasta salad
Greek salad
***Grilled Pita bread included
$15.95 per person
BBQ Brisket Sandwich includes Kaiser

BBQ Sausage (Brats, Dogs, Kielbasa)

$39.20
(30 pc)

$78.00
(60 pc)

Sides -1/2 tray 14-16 sv. Full tray 28-32 sv.

Schaul's Homemade Pasta Salad

Schaul's Homemade Mac n cheese

Loaded Red Skin Mashed Potatoes