Thierry Carrier
General Manager/Director of Operations
Avenue's General Manager/Director of Operations Thierry Carrier has refined international service standards in his blood. Born in St. Julien, France — a small town near the border of France and Switzerland, and raised in Divonne Les Bains — a tourist destination close to Geneva, this third generation hospitality professional was educated at the prestigious Lycée Hôtelier Savoie Léman of Thonon les Bains, and worked in Geneva, London, South Beach, The Hamptons and New York City before coming to Long Branch, New Jersey to help conceive and run Avenue. Thierry grew up running the halls and learning the ropes inside Le Rucher, a sixty-room hotel with a Michelin Star restaurant that his grandfather built and his mother and father ran in Divonne Les Bains. Thierry's mom was the gracious innkeeper, and his father was the fastidious chef.
After graduating from Lycée Hôtelier Savoie Léman, Carrier spent his late teens working in hotels in Geneva, Switzerland, and then worked for several years in London, where he had the pleasure of de-boning Dover Sole tableside for Prime Minister Margaret Thatcher, who commended the young server on his knife skills and finesse while working with the delicate, beloved whitefish.
At twenty three years of age, Thierry spent a year at sea working aboard the ocean liner SS France, which was the largest passenger ship in the world until the RMS Queen Mary 2 was launched in 2004.
By his mid-twenties, Carrier was catering to Miami's elite and hosting celebrities like Prince and Madonna while managing legendary South Beach nightlife brands The Strand, Tantra and Pacific Time.
Thierry left Miami for The Hamptons to manage Pacific East in Amagansett in 2001, and a year later made his way to Manhattan to open and run several hot restaurant/lounge concepts.
In 2005, Carrier joined Avenue to utilize his three decades of intense hospitality experience to lead the design of what has been called one of the premier beach club, restaurant and nightlife concepts in the U.S.
Dominique Filoni
Executive Chef, Avenue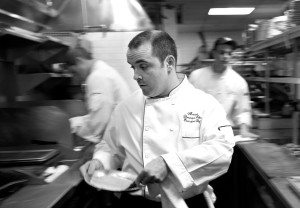 From an early age, St. Tropez, France native Dominique Filoni had a unique passion for cooking. Whether helping his grandmother prepare one of her legendary culinary specialties, foraging for exotic mushrooms and wild leeks with his uncle, tending to the family garden or searching for snails with his mother, family activities often revolved around food. At the age of sixteen, Mr. Filoni graduated with honors from the intensive culinary program at the Lycee Hotelier Institute in Hyeres, France.
For five years, Mr. Filoni cooked at several well-regarded restaurants in the French Alps, the French Riviera, and Paris. During this time, he learned the importance of using only the freshest ingredients and the necessity of incorporating these ingredients on a seasonal basis into menu development. As he rose through the ranks, Dominique also began to grasp the importance of subtlety, and how to coax maximum flavor out of an ingredient by letting the natural flavors speak for themselves.
Always eager to expand his knowledge, Chef Filoni moved to the United States in 1995 to accept the position of Chef de Cuisine at the newly opened Tierra restaurant in Gulph Mills, Pennsylvania. In 1997, the owners of Tierra recognized Filoni's extraordinary talent and promoted him to Chef de Cuisine at the subsequently named Savona. In the kitchen, Chef Filoni blended his superb French discipline with his love for Italian spontaneity, the result being his own innovative signature style of cooking. Dominique's dedication to Savona was rewarded when he was named Executive Chef/Partner in 2000.
In 2003, Filoni became inducted into the Maitres Cuisiniers de France, making him the youngest French Master Chef in the United States at the time, and in 2004, he was named one of America's Best New Chefs by Food & Wine magazine.
In 2004, Dominique opened Bianca in Bryn Mawr, Pennsylvania with his wife, Sabine – where, as Chef/Owner, he prepared flavorful dishes using simple, market-fresh ingredients. In late 2005, Filoni became the Chef de Cuisine under Chef Jean-Marie Lacroix at his eponymous restaurant inside Philadelphia's Rittenhouse Hotel, then in spring of 2006 he joined the culinary team at Seasons Restaurant at the Four Seasons Hotel in Washington, DC. As Executive Sous Chef, Filoni helped transform the restaurant's menu with his modernized versions of classic French dishes.
Filoni returned to Philadelphia in 2008 to become the Executive Chef at Stephen Starr's Parc in Rittenhouse Square.
In 2009, he accepted the position of Executive Chef at Avenue restaurant – an elegant beach-side brasserie in Long Branch, New Jersey. In keeping with his unique philosophy to utilize the only the best, most seasonal ingredients available, Chef Filoni serves up elegant cuisine infused with the flavors of the French Riviera – from classic Steak Frites and Trout Amandine to the decadent Salt Crusted Branzino and Lobster Pot-au-Feu. Chef Filoni has been featured on the CBS Early Show, Food Network, in Wine Spectator, Bon Appetit, and Town & Country, among others.
He resides in Little Silver, New Jersey with his wife, Sabine, and three children.